Captain F W Smith's diary No 2 Squadron in 1915
Following flying training at RFC Shoreham and the CFS at Upavon Captain Smith was posted to France in April 1915. Capt Smith was a Territorial Force RFA Officer who had applied to join the RFC in December 1914.

Picture © airwar1.org.uk
No 2 Squadron RFC, Merville, France
Apr 9th Fri:
Reported to CO No 2 Sqn. at aerodrome, situated about midway between Merville and La Gorgue. Surprised to find CO to be Maj. Webb Bowen who was Assistant Commandant at CFS when I first arrived there.
Am posted to 'B' Flight, the machines of which are fitted with wireless sending apparatus. Capt [Wilfred] Freeman flight commander. Meals during the day are taken in a farmhouse nearby, but dinner at the Mess in Merville in the evenings.
Apr 10th Sat:
Am taken for a joy ride by de Havilland to see the country around. I got my first glimpse of the trenches from Neuve Chappelle-north to Bois Grenier.
[Editors note: Hereward de Havilland brother of Geoffrey the Chief Aircraft Designer at the Royal Aircraft Factory and designer of the DH aircraft.]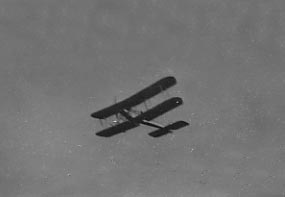 BE2 of NO. 2 Sqn RFC
Apr 11th Sun:
Machine No.336 B.E.2a is handed over to me. I take my first flight and practice landing in the aerodrome which is rather difficult as it is bounded on one side by canal which has a row of trees along it except where they are cut away opposite the aerodrome.
At 5.30 this morning I went out with the wireless tender to the 119th Batty of 4.7 guns, to see it fire & note how messages were received from the aeroplane observing for it.
Apr 12th Mon:
Practiced sending wireless messages from aeroplane.
Apr 13th Tues.
Took up Sergeant to tune in wireless, my first passenger.
Apr 14th Wed:
Observing artillery fire, passenger Lt Whiteman, Neuve Chapelle & Bois de Biez. Fired at by 'Archie' for first time. (from Log)
"Archie" a name for anti aircraft gunfire. Wg Cdr the Hon. Maurice Baring records this as deriving from No 5 Squadron referring to a particular AA gun that fired on them early in the war as "Archibald", from the music hall song "Archibald, certainly not." Baring noted it in his diary in September 1914. At this stage of the war pilots were able to distinguish particular guns - especially the more accurate ones for which they had a healthy respect!
Apr 15th Thurs:
Took up Lt Whiteman as observer to work with artillery. As clouds came up we were obliged to descend.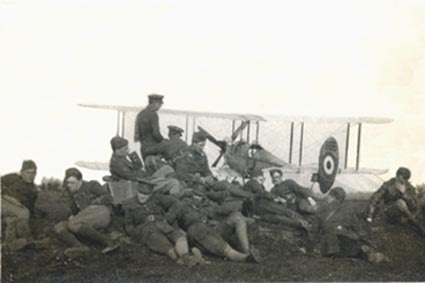 No. 2 Sqn RFC Officers including Lt Moorhouse VC
BE2b 666 behind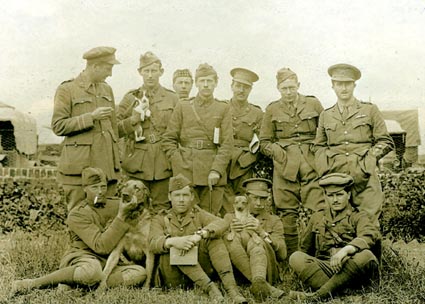 No. 2 Sqn RFC Officers (?May 1915):
Back row: Secker, Wallace, Whiteman, Leighton, Milne, Lees, Smith
Front row: Collins, Lloyd, Sweet, James
Apr 16th Fri:
Whiteman as passenger observed for 119th Batty, we were fired at by German anti aircraft guns the shells of which are known here as "Archies"
Apr 17th Sat:
Went up alone to observe for artillery, wireless apparatus went wrong (belt came off dynamo) was obliged to descend.
Apr 18th Sun:
Slept at aerodrome last night being Orderly Officer, and did the early reconnaissance, with Lt Ashly as passenger. The area reconnoitred was Bois Grenier-Armentieres-Lille-Beaucamps-Fournes-Herlies-Bois de Biez-Aubers. We were heavily fired at but not hit.
At 3.45 I went up on BE2C machine of Lt. Smith to observe targets at Herlies, Fournes & Fromeiles for 119 Batty. Was fired at constantly while doing target at Herlies, but moved further north for target at Fournes & was not fired at. While doing target at Fromeiles engine commenced to misfire and I was obliged to return. It was a treat to fly a BE2c again after the 2a of my own.
Apr 19th Mon:
Sick leave with measles sent to hospital in Boulogne.
May 2nd Sun:
Granted sick leave & proceeded home by boat leaving Boulogne 3.0 pm arriving Dover 4.50 pm. It took a considerable time to entrain all the wounded, and we did not arrive London, Charing Cross, until 10 pm. Col. Wiltshire, Lt. Gracey. Lt. Moony & I had travelled across together & were sent by cars on reaching London to the City of London Military Hospital, in Homerton, - what was before the London workhouse infirmary, there we spent the night.
History note: 22 April 1915 saw the first use of lethal (chlorine) gas by the Germans at Ypres against French and Canadian positions. Further gas attacks were launched against the Canadians on 24 April and on 1 May against British positons South of Ypres.